[Sticky]

Eurowise MK1 VR6 Conversion Kit Install Guide
The below information is for the AAA 12v VR6 / 24v / 3.6 eurowise swap mount kits
[IMG]
[/IMG]
Here's a few photos of the MK1 VR6 mounts installed with the motor in its home to give owners a better idea of placement...
Stage 1
[IMG]
[/IMG][/URL]
Stage 2
[IMG]
[/IMG][/URL]
Stage 2+
[IMG]
[/IMG][/URL]
Stage 3
[IMG]
[/IMG][/URL]
1. Front Engine Mount

---
- When installing your front engine mount you will re-use your factory starter bolt and use the supplied 10mm nut.
- Use supplied M12 bolt/washer to secure bottom mount hole. Factory oil cooler should not get in the way when installing bolt.
- On some cars we have seen the front engine mount bushing not sit completely inside cup/bracket. If you are having this issue please use the supplied front engine mount spacer to resolve this. You want to make sure this bushing is completely seated inside of cup/bracket.
* M12 bolt installs on bottom hole on front mount and secured by M12 nut.
---
- Use the X2 supplied M10x60 supplied bolts when securing your transmission mount.
3. Rear engine mount

---
- Use the X4 supplied M10x25 bolts w/Washers when installing your rear engine mount.
- Please note that in most cases bushing will slightly touch  engine block, this is fine.
4. 4th mount bottom side, rear of the transmission.

---
- Two M10 bolts are removed from the transmission and re-used with the Eurowise fourth mount. It can only go on one way.
- Used supplied M10x60 bolt w/M10 lock nut when securing mount to frame.
5. Axles

---
- Use the supplied axle bolts and nuts when installing your axles.
- Our Axles are a direct bolt in made exclusively for the MK1 VR6 conversion.
- Axles fit early and late model MK1 However if you have an Early MK1 80's and older please use the Round spacer shims included in the kit. these shims go between the axle and the hub. This adds the needed clearance for the axle joint to the hub. Otherwise the axle will grind.
[IMG]
[/IMG]
[IMG]
[/IMG]
[IMG]
[/IMG]
 6.  Front support brace included in stage 2 /Stage 2+ / Stage 3
Bolts on left and right frame rails that hold in the front bumper are removed to attach the front core support brace. Remove front engine mount cup to install brace to front core support then reinstall the front cup after.
[IMG]
[/IMG][/URL]
[IMG]
[/IMG][/URL]
[IMG]
[/IMG][/URL]
ALL  MK1 chassis are not treated equally. Please keep in mind not knowing the history some front frame rails could have been repaired and not even. In some cases too wide or narrow. We include spacers to compensate in some cases. Sometimes you need them and sometimes you may not. We build them so in those cases you can use. If you need to bend the outer brackets out  to meet the frame rails flush that is completely normal. 
This topic was modified 7 months ago by
eurowise
[IMG]
[/IMG]
Rear lower transmission mount hardware
[IMG]
[/IMG]
transmission side mount hardware
[IMG]
[/IMG]
front transmission mount / snub mount hardware
RESOURCES 
 (Electrical Diagrams) 
 (VR6 conversion kit) 
 (Mk3 Bentley Manual)
https://www.dropbox.com/s/nk1jwtkpyq...anual.pdf?dl=0
(Mk1 Bentley Manual)
https://www.dropbox.com/s/ivnvu5iif4...ently.pdf?dl=0
(Cabriolet info) 
http://www.cabby-info.com
DONOR CAR 
Here are a few notes to be taken…….
- Find a car that hasn't been gutted yet. Its a lot easier to sell off what you don't need then to scavenge for what you do. 
-If you are doing this project on a budget, there are a few things that can be done to help keep some hard earned clams in the bank. 
-Use the stock exhaust manifold / down pipe. It will have to be cut short and at an angle to clear the steering rack, but works just fine. 
Here is a list of everything you will want to pull off of your donor car
Transmission
ECU
Full engine harness (take as much wiring as you can, you can strip off what you don't need later) 
Cable shift box 
Fuse box
All coolant lines
Oxygen (O2) sensor  front sensor 
Guage cluster (if you want to go that route, I will show how to get everything hooked up) 
Gauge cluster harness
WIRING AND STUFF 
This is the Mk3 fuse box showing only the harness point that are needed to make everything work including the speedo cluster. 
I have blanked out everything that is not needed in an effort to make this simpler to read. 
Here it the breakdown of whats on here.......

D Miscellaneous Equipment (GREEN)
D/08 Auto. Trans. Shift Lock Control Module, Interlock Relay, Malfunction Indicator Switch, E/2 (cluster power for A3) Main Fusebox Start/Run Power (Black)
E Instrument Wiring Harness (GREEN)
E/02 D/11 or D/8 (Start/Run Power for cluster, 1991+ Corrado, Passat, all other models), Immobilizer Module U2/1 (Black)
(NOTE) YOU WILL NEED TO JUMPER THESE TWO TERMINALS ABOVE TO GET YOUR MK3 GUAGE CLUSTER TO WORK!!!!!!!
G1 Engine Compartment/Management, Right Side (WHITE)
G1/03 ECU- Fuel Pump Relay Turn-On (gas), Engine Temp Sender (Pre-heat, diesel), thermoswitch for preheat (carb) Fuel Pump Relay Power (Red/Yellow) (gas engines), 
G1/04 Ignition Coil Pin 15 (Digifant and CIS-E), Motronic ECU Pin 14 and coil power stage Pin 1(Motronic), Altitude Correction and Fuel Cut-Off Valves (diesel) Main Fusebox Start/Run Power (Black) (gas)
G1/05 Ground on Cylinder Head Ground (for gauges/warning lights) (Brown/White)
G1/08 Heated Oxygen Sensor Power Fuel Pump Relay Output, Fuse 18 (Red/White)
G1/09 MIL Lamp from ECU (TDI) Gauge Cluster MIL Light (Yellow/White)
G1/10 Digifant/Digijet ECU Power, Injector Power (1989 only), ISV Power (G60 only) Digifant ECU Relay Output (Black/Yellow)
G1/11 Vehicle Speed Sensor Gauge Cluster (White/Blue)
G1/12 Ignition Coil Pin 1 (all Mk2, most others '90 only), ECU tach signal (all 91+ except Mk2) Tachometer (Red/Black) (coil) or (Green/Black) (ECU)
G2 Engine Compartment/Management, Right Side (WHITE)
G2/01 Oil Temperature Sender Gauge Cluster (MFA) (Green/Black)
G2/03 Coolant Temperature Sending Unit Coolant Gauge (Yellow/Red)
G2/04 Knock Control Unit, Oxygen Control Unit, and Throttle Switches (CIS-E), automatic choke and overrun cutoff valve (carb), Heated O2 Sensor (Digijet), Fuel Pump After-Run Control Unit and Crankcase Ventilation Heater (G60) Main Fusebox Start/Run Power, Fuse 15 (White) (carb), (Black) (all others)
G2/05 MIL Light from Motronic ECU (Passat VR6) Glow Plug Relay Pin 9 (Yellow/White)
G2/06 - Fuel Pump Relay Pin 5 -
G2/08 Secondary Air Injection Pump Power, EVAP Canister Valve Power (VR6) Fuel Pump Relay Output (Red/Blue)
G2/09 VR6/ABA Motronic ECU (Fuel Pump Input) Fuel Pump Relay Input (Red)
G2/10 High Oil Pressure Switch Oil Pressure Warning Unit (Yellow)
G2/11 Low Oil Pressure Switch Oil Pressure Warning Unit (Blue/Black)
G2/12 - (no pin) -
H1 Steering Column Wiring Harness (RED)
H1/04 Ignition Switch Start/Run Power Main Fusebox Start/Run Power (Black)
H1/07 Ignition Switch Key-in Power for Seatbelt Relay, Automatic Shoulder Belt Control Module, Radio Seatbelt Warning Relay Pin 5 (Brown/Red)
M Fuel Tank Wiring Harness (BLACK)
M/01 Fuel Pumps Ground Main Fusebox Ground (Brown)
M/02 Fuel Pumps Power Fuel Pump Relay Output, Fuse 18 (Red/Yellow)
MISC.
Y/03 Battery Positive Main Fusebox Battery Power (RED)
-Z2 Battery Ground Main Fusebox Ground (BROWN)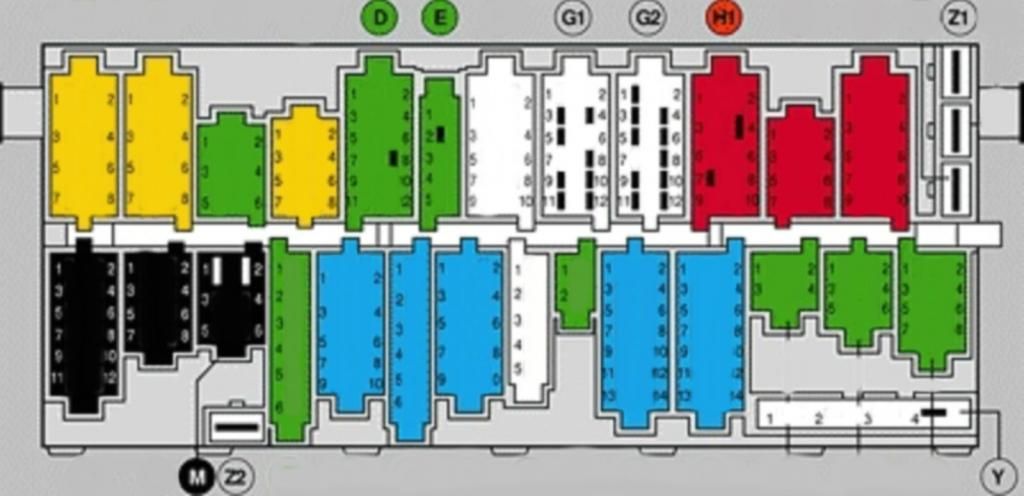 ....and what the harness should have on it at the end......